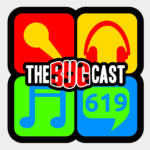 This week on The Bugcast: we cut back most of the talk to mark the passing of a number of British national treasures, and we play 8 pieces of great Creative Commons music!
Songs played
Intro: <a href="http://chrisjuergensen.com/">Chris Juergensen</a> – Bug Lips<br />
Outro: <a href="http://markmarshall.com/">Mark Marshall</a> – Man Walking

Topics
BBC Sport: <a href="https://www.bbc.co.uk/sport/snooker/53076861">Willie Thorne: Snooker favourite dies aged 66</a><br />
BBC News: <a href="https://www.bbc.co.uk/news/uk-53091856">Dame Vera Lynn: Forces' Sweetheart dies aged 103</a><br />
BBC News: <a href="https://www.bbc.co.uk/news/entertainment-arts-53110391">Sir Ian Holm: Lord of the Rings and Alien star dies aged 88</a>

Upcoming events
<strong>Most events that we would usually promote are at risk, keep watching for more details.</strong>

Announcements
Please leave us feedback on the music or any of the topics that we've discussed.
The next live show will be episode 620, which will be streamed live in the chatroom on Friday 26 June 2020 at 21:30-ish UK time (BST/GDT/UTC+1).
Join us during the week on our Telegram group chat – click here to join
(you'll need a Telegram account)
Please vote for us in the British Podcast Awards Listener's Choice!
<!–
Podcasts mentioned
–>
Special thanks go to
Our <a href="https://thebugcast.org/support">supporters</a>!<br />
The artists for allowing us to play their music.<br />
Everyone who joined us in the chat room for the live broadcast of this show.<br />
<a href="https://archive.org/">Internet Archive</a> for hosting the media files<br />
<a href="https://euterpiaradio.ch/">Euterpia Radio</a> for the use of their Shoutcast server

The Bugcast is a proud founder member of the Other Side Podcast Network
The post #619 – Willie meet again, Bilbo appeared first on The Bugcast.
Podcast: Play in new window | Download